Experience craft chocolate
from around the globe
Sale price Price $120 Regular price
Twelve-Bar Craft Collection
Dandelion Chocolate
Sale price Price $120 Regular price
Twelve-Bar Craft Collection
Dandelion Chocolate
For us, chocolate has always been about relationships, even more than products; a dark-brown ribbon uniting a global community. In the spirit of connection, we curated this rare collection of chocolate bars across nearly every continent.
Each thoughtfully assembled twelve-bar set showcases international cocoa producers, profile developers, and making processes. Peel back bar foils to catch a glimpse of the care and skill underlying the global craft-chocolate landscape. Every one-of-a-kind assortment highlights hand-selected bars from small-batch makers all over the world — including micro-brands you'd be hard-pressed to find elsewhere — and includes one Dandelion bar.
Please enjoy your unique collection. We hope you understand that due to limited quantities and the surprise nature of this bar assortment, we are unable to accept returns or exchanges (though please feel free to share bars with a friend!). Your set is truly one-of-a-kind, and contains a balanced variety of bars from twelve diverse craft-chocolate makers. The element of surprise adds fun to an exploration of world-wide chocolate camaraderie.
Ingredients & Allergens

Every Twelve-Bar Craft Set is unique, and each included bar's ingredients, allergen notes, and weights are printed on its wrapper.

Here are some bars and makers you may encounter:

Dandelion Chocolate
Weight: 2 ounces / 57 grams
Ingredients: cocoa beans from various origins, organic cane sugar

Seahorse Chocolate
Weight: 2 ounces / 57 grams
Ingredients: cocoa beans and organic cane sugar

Majucau Chocolates
Weight: 2.82 ounces / 79 grams
Ingredients: cocoa, organic sugar

Ambar Chocolates
Weight: 2.82 ounces / 79 grams
Ingredients: cocoa, organic sugar

Baianí Chocolates
Weight: 2.04 ounces / 57 grams
Ingredients: cocoa nibs, sugar, cocoa butter

Soklet
Weight: 1.76 ounce/ 50 grams
Ingredients: cacao, cane sugar

Chococard Chocolate
Weight: 2.82 ounces / 79 grams
Ingredients: cocoa beans, organic cane sugar, cocoa butter

Ór Dubh Chocolate
Weight: 2 ounces / 57 grams
Ingredients: cocoa beans and sugar

Mission Chocolate
Weight: 2.12 ounces / 60 grams
Ingredients: cacao, organic sugar, cocoa butter

Marou Chocolate
Weight: 2.82 ounces / 79 grams
Ingredients: cocoa and cocoa butter (78%), cane sugar (22%)

McGuire Chocolate
Weight: 1.76 ounces / 50 grams
Ingredients: cacao beans*, cane sugar*, cocoa butter
*Certified organic / Certifié biologique

9th & Larkin
Weight: 2.5 ounces / 70 grams
Ingredients: cacao beans, cane sugar, cocoa butter

Shane Chocolate Works
Weight: 2 ounces / 57 grams
Ingredients: cocoa beans from Tumaco, Colombia, cane sugar

White Label Chocolate
Weight: 2.3 ounces/ 65 grams
Ingredients: cocoa beans, cane sugar

French Broad Chocolates
Weight: 2.1 ounce/ 60 grams
Ingredients: Chocolate: cacao, sugar

Solstice Chocolate
Weight: 2.3 ounces/ 65 grams
Ingredients: cacao bean, organic cane sugar, cocoa butter

Chequessett Chocolate
Weight: 2 ounces / 57 grams
Ingredients: organic cacao beans, organic evaporated cane juice, organic cacao butter

Hummingbird Chocolate
Weight: 2 ounces / 57 grams
Ingredients: organic cacao, organic cane sugar, organic cocoa butter

Raaka Chocolate
Weight: 1.8 ounces / 51 grams
Ingredients: organic cacao beans, organic cane sugar, organic cacao butter



Weight

Total weight varies slightly per set; sets are estimated to be about 24—27 ounces.

Learn More

Learn more about our cocoa beans and sugar—the region, the farms, and the producers.
An International Exploration of Flavor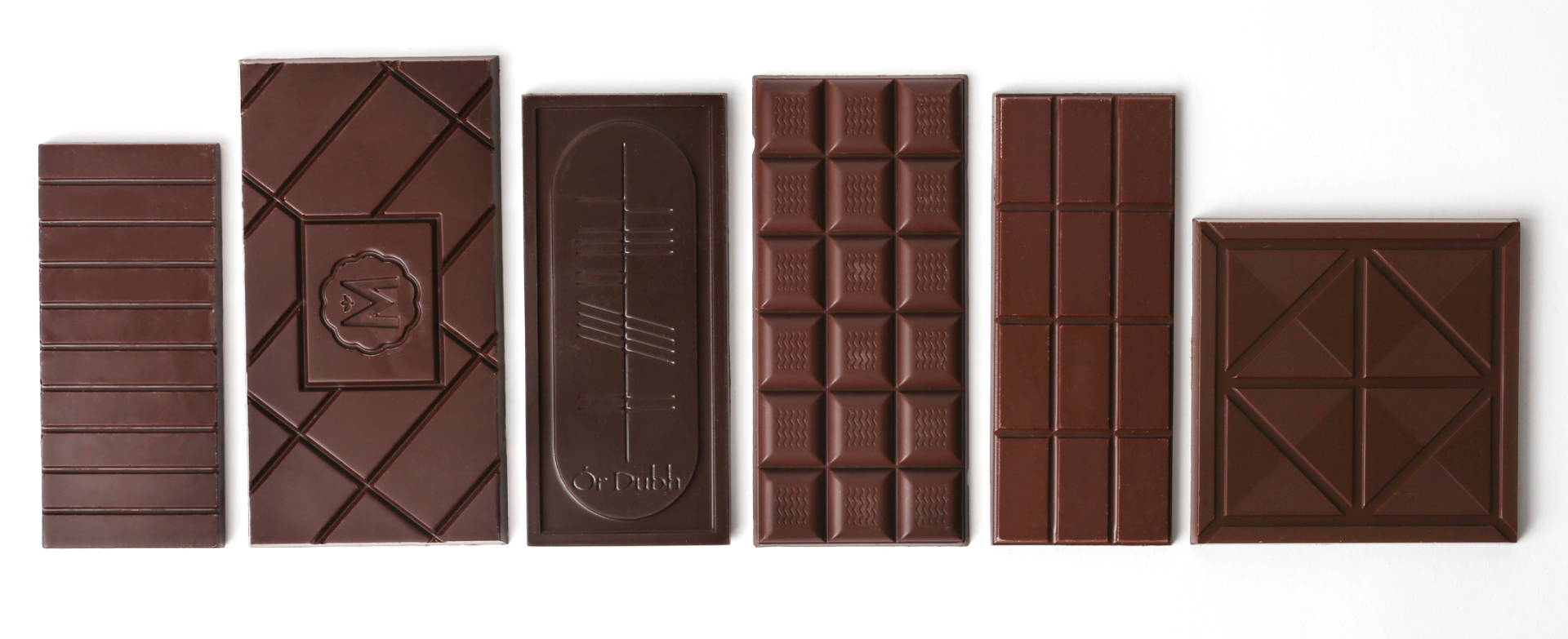 Costa Esmeraldas
Ecuador
Freddy Salazar, the owner of Costa Esmeraldas, produces unique cocoa that we make into one of our best-selling bars. Located in the Esmeraldas Province of Ecuador, Costa Esmeraldas began as a very different farm when the Salazar family acquired it over a decade ago.
Freddy's father purchased two properties on the northeastern side of the beautiful Esmeraldas coast. On formerly dry pastureland and wild forest inaccessible by any road (and not ideal for growing cacao), he and his family created a 10-hectare (25-acre) plantation and cocoa-processing facility. What began as a passion project for the Salazars has evolved into a thriving farm of over 330 hectares (about 850 acres), approximately a third of which is used for growing cacao.
While most cocoa produced on the farm (and what we buy) is from Neo-Nacional cultivars, the farm also cultivates CCN-51 pods as a cash crop, selling to the local bulk market. In addition, the farm produces bananas and citrus, and 50 hectares (124 acres) of land have been left as virgin forest, creating a thriving habitat for flora and fauna.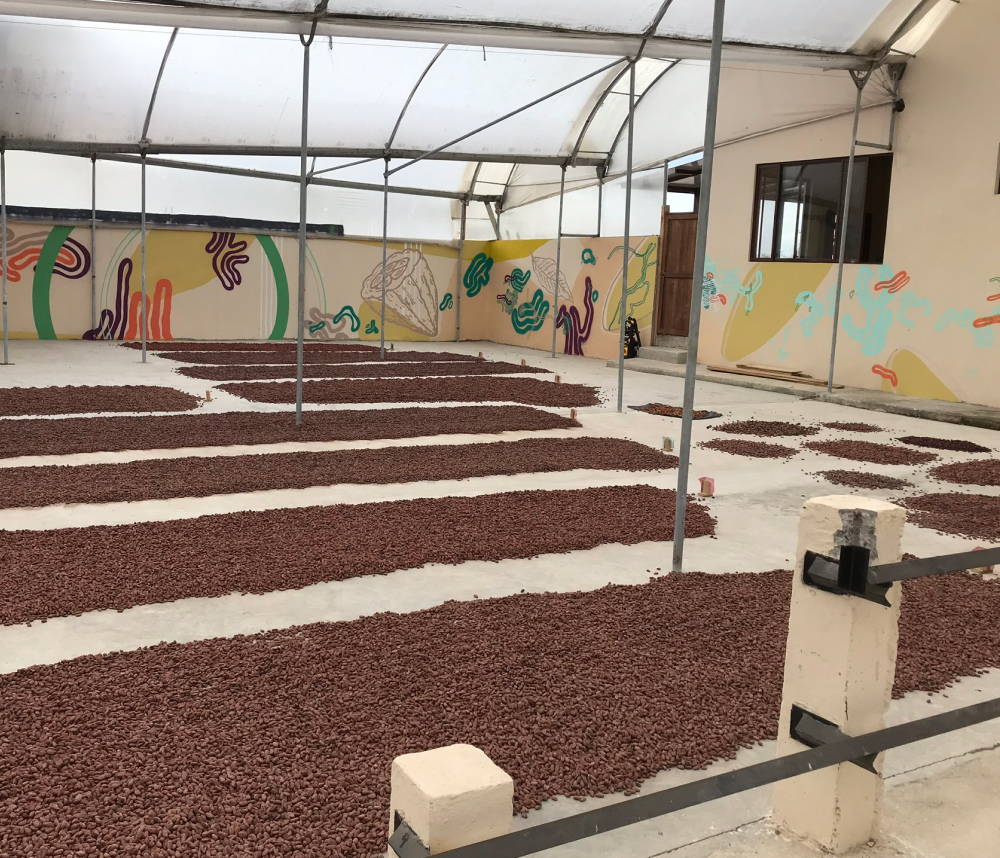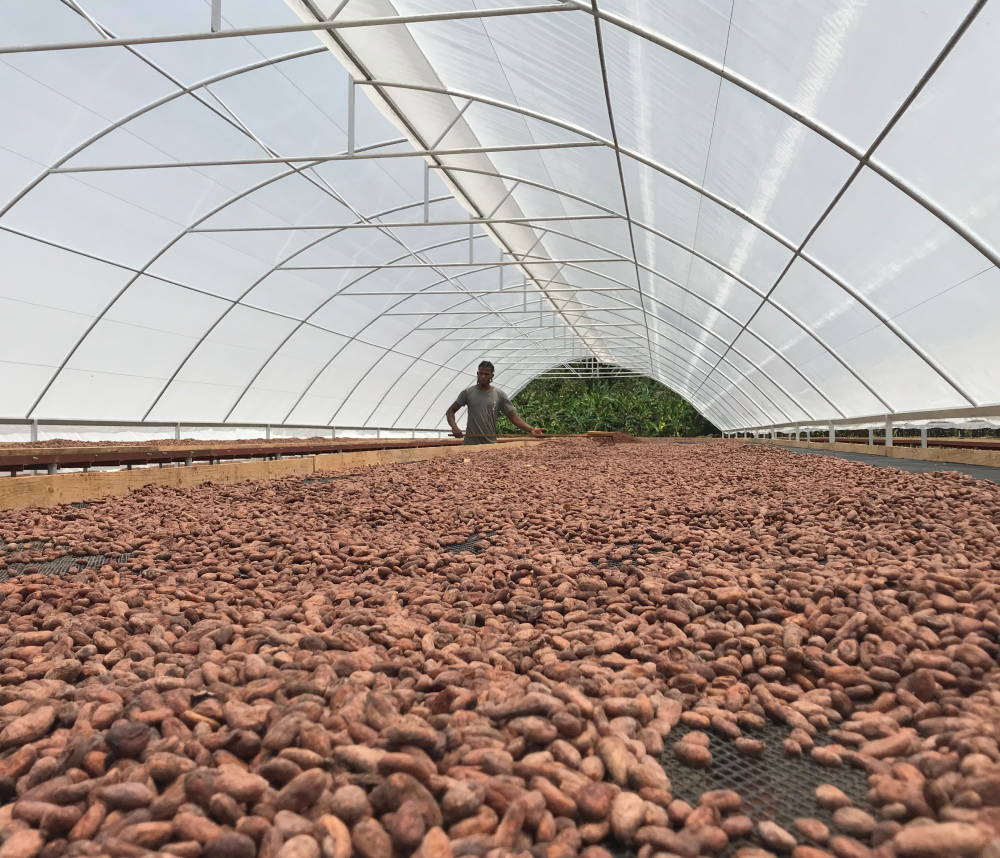 Zorzal Estate
Dominican Republic
Reserva Zorzal is a 1,019-acre organic cacao farm and bird sanctuary located in a moist, broadleaf-rainforest region of the northern Dominican Republic. Charles (Chuck) Kerchner co-founded Reserva Zorzal and Zorzal Cacao (a.k.a. Cacao del Bosque S.R.L) in 2012, hoping to prove that a for-profit business could be a viable, economically sustainable driver of environmental conservation.
Chuck and his co-founders (Jamie Phillips, Jesus Moreno, Jaimie Moreno, Angelica Moreno, and Sesar Rodriguez) bought a relatively undeveloped 412-hectare (1000-acre) piece of land in the mountains of the Duarte Province. They divided it into Reserva Zorzal (the bird sanctuary) and Zorzal Estate (the farm) to protect a critical habitat and simultaneously grow high-quality cacao. While Zorzal Cacao processes and sells estate-grown cacao under the name "Zorzal Estate," the company also buys freshly harvested beans from neighboring farms, ferments them, and sells them, under the name "Zorzal Comunitario."
Unlike many origins where we source beans, the Dominican Republic has a thriving national cocoa industry, and Chuck supports and retains staff through continual education. When travel is possible, Dandelion runs annual customer trips to visit Zorzal and the Zorzal team.
Tumaco
Columbia
Cacao Hunters is the first Colombian company to source cacao and produce cocoa and chocolate within Colombia. They're an ideal partner, as their openness to innovation and experimentation enables them to produce the best cocoa possible.
Cacao Hunters works passionately with farmers growing local cultivars in regions where income generation has been difficult due to recent conflict. Owners Carlos Ignacio Velasco and Mayumi Ogata (a former pastry chef) met in Japan in 2009, and have been working together ever since to produce high-quality cocoa in challenged areas of Colombia.
Having built strong alliances with Tumaco producers, Cacao Hunters supports local families by providing stable, higher-than-market prices for good cocoa. They work with a variety of regional associations, each of which ferments its own cacao with the company's assistance and advice. Beans from Tumaco make up more than 60 percent of the cocoa that Cacao Hunters uses for their own chocolate brand; we feel fortunate to be able to procure some of these flavorful beans to use ourselves.
Cacao Hunters' chocolate may now be found in the best chocolate shops in major Colombian cities. In 2016, their Tumaco bar won for Best Milk Chocolate Bar in a competition of 900 products in Osaka, Japan.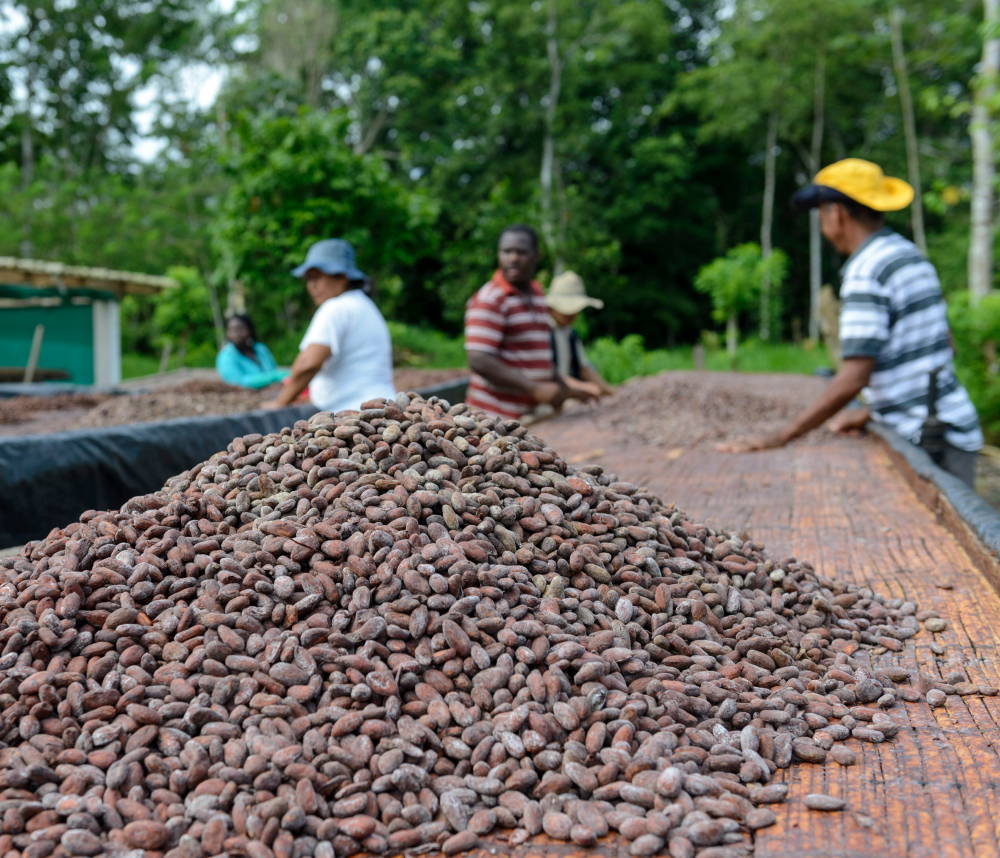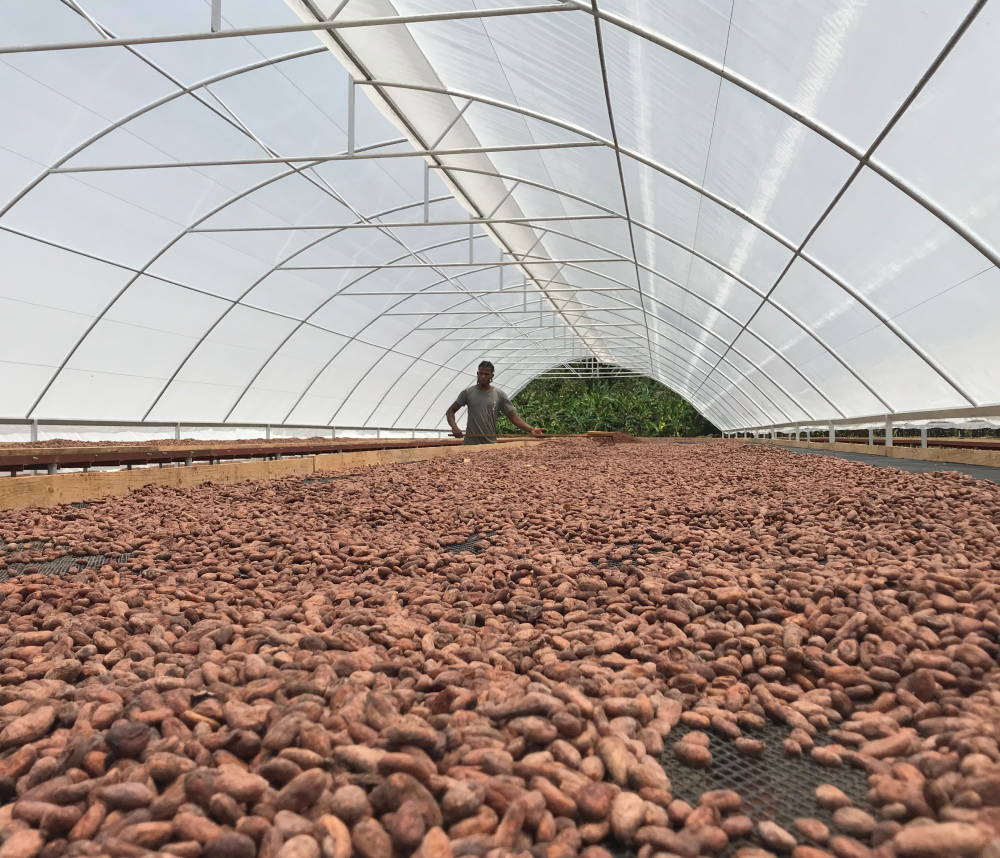 Anamalai
India
In 2017, Dandelion Chocolate made our first bar from Asian beans. Produced in Tamil Nadu, one of two southernmost Indian states — a region known more for tigers than cacao — these beans are the result of hard work, focus on sustainability, and a holistic approach.
At Regal Plantations, just outside Anamalai in Tamil Nadu, brothers-in-law Karthikeyan Palanisamy and Harish Kumar cultivate cacao trees intercropped with coconut palms, nutmeg trees, and other smaller species (including papaya and pepper), improving both the health of the soil and the quality of the crops. Harish is originally from Pollachi, near Regal Plantations, and for many years his family ran multiple farms around Pollachi, cultivating mostly coconut, cacao, and nutmeg.
While Harish and his family had long farmed cacao, it was of relatively low quality, and the prices were equally low. In 2014, Harish took over his family's farms, and decided to work with Karthi to improve the quality and flavor of the cacao being cultivated between 30-year-old coconut palms. It was a risky endeavor, but it paid off in excellent, flavorful cocoa.
Bến Tre
Vietnam
These beans are produced by two small-scale fermenters, Mr. Son and Ms. Ban, with whom Marou Faiseurs du Chocolat (Marou) has worked for many years. The two fermenters buy cacao pods from their neighbors, purchasing from around 60 small farmers in total. They then ferment the beans in linear boxes and dry them on elevated mesh decks. The Marou team inspects and purchases the best beans, and then blends them for consistency — a key step for the Bến Tre beans we use at Dandelion, as it helps ensure consistent flavors within a single harvest.
Although Marou crafts their own chocolate from many of Bến Tre's beans, we were fortunate to be able to purchase three tonnes of beans from Marou in 2018, and made them into chocolate the next year. On a return trip to Vietnam in 2019, we brought a few bars with us to share. It was a joy to see the pride on Ms. Ban's face when she tasted the chocolate, as she had helped to make our Bến Tre bar possible.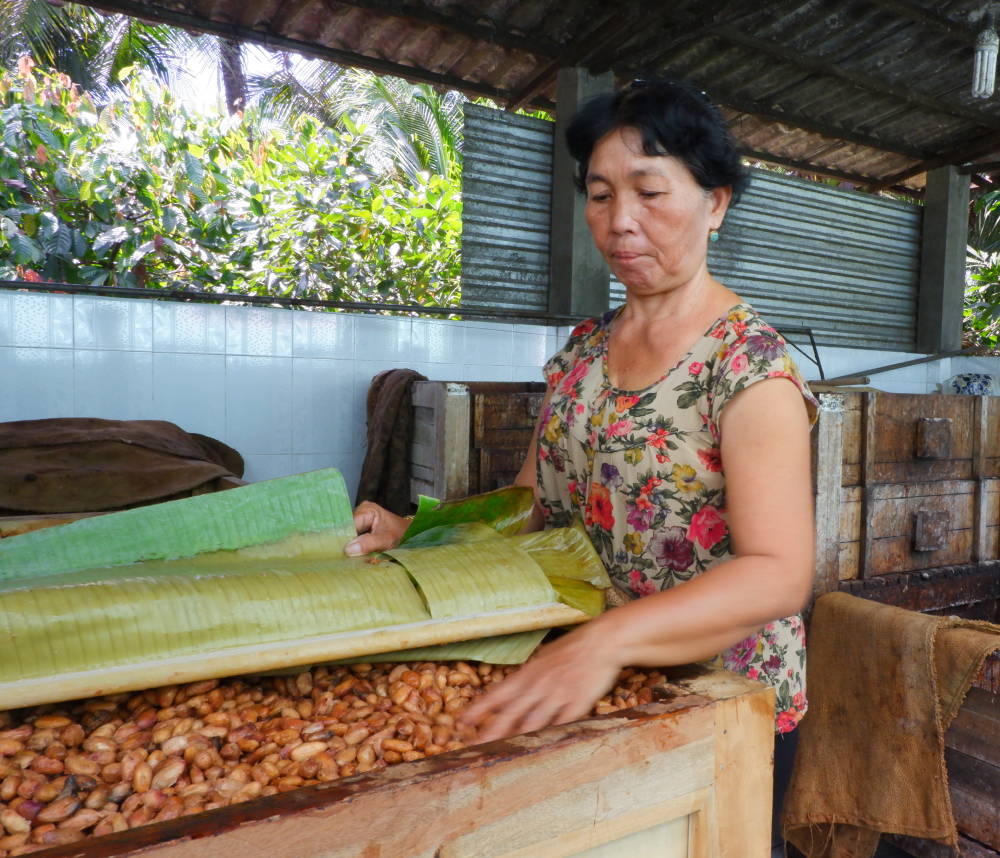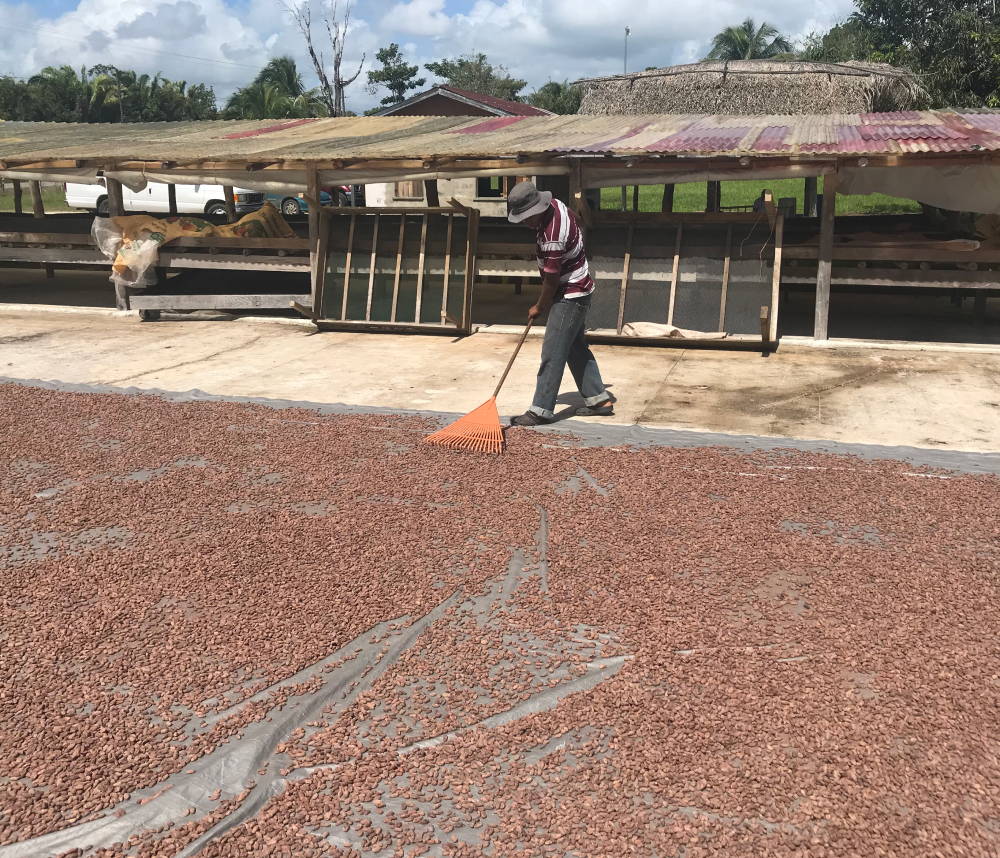 Maya Mountain
Belize
Maya Mountain Cacao (MMC) is a social enterprise established in order to connect small-scale cacao growers in Belize to the international specialty cocoa market. Located in Toledo, the least-developed region of Belize, they were the first company in the country to buy wet beans from farmers and emphasize the importance of quality.
With a centralized fermentary, MMC purchases from family farms in southern Belize, committing to a consistent price throughout the season. MMC is currently buying from over 400 farmers, a majority of whom have been suppliers for more than two years. We have been buying beans from MMC since 2013, and while we have witnessed their growth and success, we have also seen the obstacles they face. 2017 was a particularly challenging year for MMC, as they experienced competition from seven other buyers in an area that produces less than 150 tonnes of cacao per year on average. Dandelion Chocolate invested in MMC directly to help them with the capital they needed to build their new post-harvest center, which allowed them to expand capacity and increase quality.
Vale Potumuju
Brazil
We spent years searching for the right cocoa partners in Brazil, and finally met Tuta and Juliana from the state of Bahia in 2016. Prior to crop devastation by a cacao disease called witches' broom in the late '80's, Brazil produced a large portion of the world's cocoa. Over the last two decades, the industry recovered and a new specialty-cocoa market emerged as Brazilians began to enjoy craft chocolate. Now, Tuta and Juliana are among a number of local "tree-to-bar" producers who grow cacao, harvest and ferment beans, then make their own chocolate. The tight tree-to-bar-production feedback cycle rapidly improves cocoa quality.
Tuta and Juliana have a deep love for cocoa. They grew up on cacao farms in Bahia, then left to pursue successful careers in the music industry before returning several years ago to cultivate and process cacao on Juliana's family farm. They renamed the farm Vale Potumuju, and refurbished operations to achieve excellent bean fermentation, with an eye toward sustainability. Juliana began making chocolate from the farm's beans, which led to the creation of Baianí, Vale Potumuju's tree-to-bar chocolate brand. By 2019, Tuta and Juliana were able to produce enough cocoa not only to supply Baianí, but to sell a small batch of flavorful beans to us.