Hot Chocolate for All Seasons
Our hot chocolate trio returns with an inspired recipe from our Tokyo café
Hot Chocolate
for the Holidays

Our hot chocolate trio returns with a new recipe inspired by our signature drink from our Tokyo café
Sale price Price $65 Regular price
Hot Chocolate Mix Trio
Dandelion Chocolate
Sale price Price $65 Regular price
Hot Chocolate Mix Trio
Dandelion Chocolate
Our house-made hot chocolate has been a café favorite since our earliest days, when we dreamed of concocting a perfect hot drink to ward off San Francisco's perpetually foggy chill. This season we've created a beautifully boxed trio of flavorful hot chocolate mixes to whisk up at home with fresh milk, cream, or dairy alternative. Three delicious single-origin chocolate mixes, contained in elegant reusable glass vials designed just for us by talented industrial designer (and Dandelion friend) Remy Labesque, are ready to taste, share, gift, and compare.  

This collection includes three 5.6-ounce bottles of hot chocolate mix, enough to make 12 servings, plus recipe instructions for each mix. We highly recommend adding marshmallows.
Ingredients & allergens

Classic: 70% Camino Verde, Ecuador chocolate (cocoa beans, organic cane sugar)
Mission: 70% Ambanja, Madagascar chocolate (cocoa beans, organic cane sugar), light brown sugar, allspice, cayenne pepper, cinnamon, pasilla chile
Hojicha: 70% Camino Verde, Ecuador chocolate (cocoa beans, organic cane sugar), light brown sugar, roasted green tea

Packed in a facility that also processes tree nuts, soy and sesame.

Weight

16.8 oz (480 g)
"Dandelion Chocolate has stood out in the new crop of bean-to-bar chocolate makers in America. And while the chocolate bars are exceptional, equally exciting is the way chocolate is used in their café, deliciously crafted into cakes, brownies, and cookies, as well as blended into one of the best cups of hot chocolate I've ever had."
Our rich, single-origin hot chocolates put Dandelion's star on the chocolate map. For any season or occasion, we have a hot chocolate mix to fill your cup. If you enjoy making our hot chocolate at home, you'll find more recipes for hot and cold chocolate drinks in our book, Making Chocolate: From Bean to Bar to S'more.
CLASSIC HOT CHOCOLATE MIX
Our Classic Hot Chocolate mix is crafted from our fudgy 70% Camino Verde, Ecuador chocolate, and makes for creamy drinks that are rich and profoundly chocolatey.
MISSION HOT CHOCOLATE MIX
Our Mission Hot Chocolate – an homage to our SF neighborhood – features a lively blend of spices complementing the bright, fruity notes of Ambanja, Madagascar chocolate.
HOJICHA HOT CHOCOLATE MIX
Our unique Hojicha Hot Chocolate, a Dandelion Japan café staple made with delicately roasted green tea, features subtle smoky notes and a smooth finish.
A little about us...
We Make Bean-to-Bar Chocolate
We're Dandelion, a bean-to-bar chocolate maker in San Francisco's Mission District. For over 10 years, we've been turning cocoa beans and organic sugar into single-origin dark chocolate. We're part of the New American Chocolate Movement of small-scale chocolate makers building specialized machines and rethinking chocolate making practices to reclaim the depth of flavor in chocolate.

As a bean-to-bar maker, we first source our own beans, and then sort, roast, crack, winnow, melange, temper, and mold each bar we make. Our approach focuses on minimal ingredients, just cocoa beans and cane sugar (not vanilla, emulsifiers, or additional cocoa butter), so that the quality and flavor nuances of the bean shine through.
Just Two Ingredients.
That's All.
Our chocolate bars are made of just two ingredients: cocoa beans and organic sugar. We don't add cocoa butter, soy lecithin, vanilla, flavorings, or preservatives, so the quality and flavor nuances of our beans shine. With a light hand and minimalist approach, we aim to highlight different cocoa beans' distinctive flavor notes — from classic fudge to tangy fruit..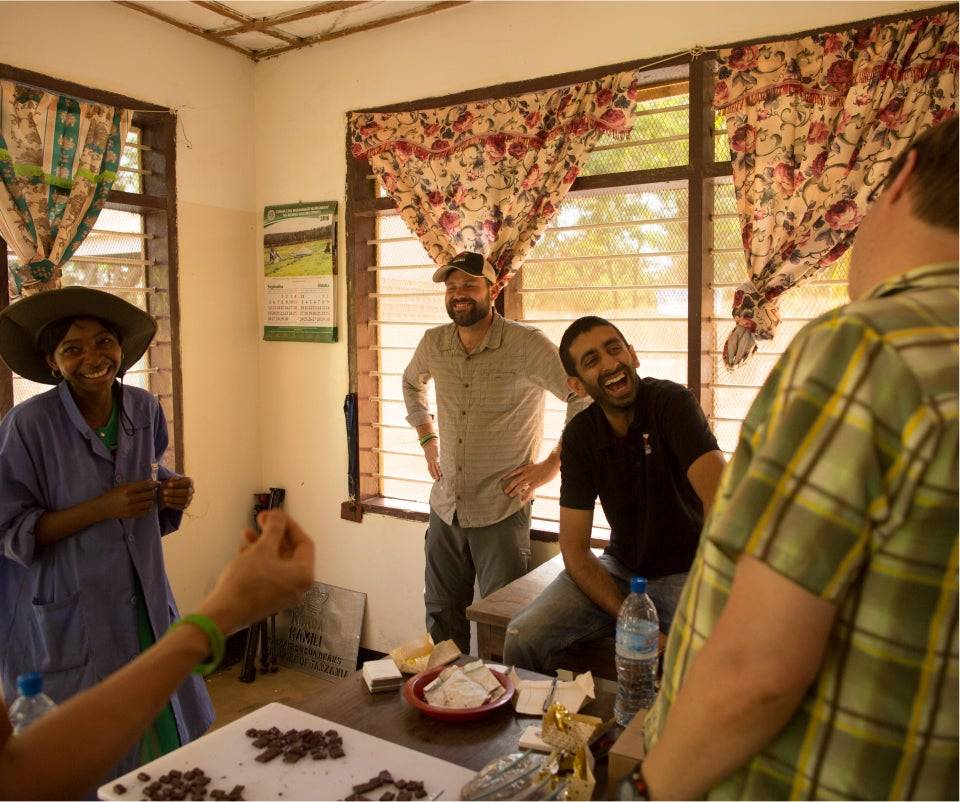 We Visit Each Origin to Build Lasting Relationships
When we look for cocoa beans, we look for good flavor and good people. Building trust is at the heart of what we do, and relationships are reciprocal. In addition to looking for good cocoa, we're also interested in what our cocoa producers need from us — feedback on a new fermentation process, upfront capital to offset a bad season, or connections to other chocolate makers to grow business. Each year we publish the stories, numbers, and practices of our producers in our annual Sourcing Report.
We Work With Collaborators & Chocolatiers Worldwide
While chocolate makers make chocolate from cocoa beans, chocolatiers use finished chocolate to create truffles, bonbons, candy, and confections. Since we don't add emulsifiers or additional cocoa butter to our chocolate, working with it requires extra time and attention. As a result, making truffles or chocolate-covered nibs with our chocolate can be especially challenging. Still, our collaborators remain undaunted, inventing new recipes and products each year. We celebrate their talents and share these crafted treats with you.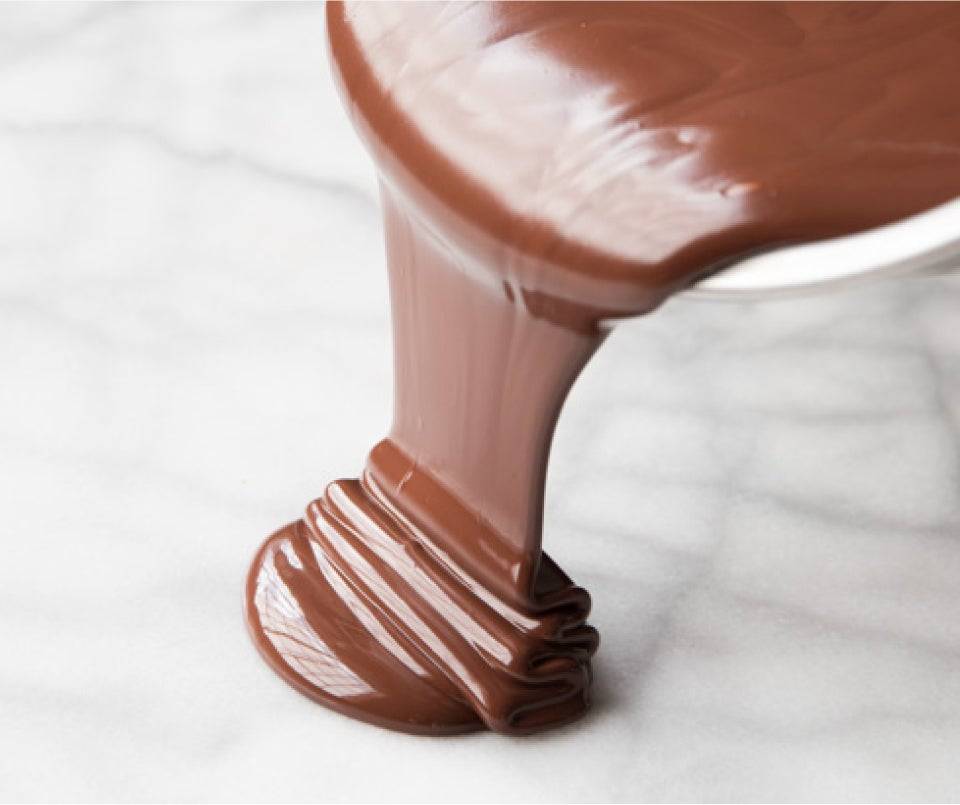 Join Our Virtual Classes to Experience Chocolate from a New Perspective
Our Chocolate Educators have been with the factory for many years, and share their perspectives on tasting single-origin chocolate, making treats at home, and experiencing chocolate in new ways. Our classes are available for individuals, families, and group events.
See Our
Chocolate-Making in
San Francisco
If you're in San Francisco, we hope to soon invite you to stop by our café and factory in the Mission District to sip on a hot chocolate while watching our chocolate makers turn cocoa beans into bars of chocolate.